Essendon star David Zaharakis will play his 200th AFL game when he lines up to take on Greater Western Sydney at Marvel Stadium on Thursday, so we've taken the chance to look back on his outstanding career in the red and black.
Pre-season, 2008
Zaharakis, a lifelong Essendon supporter, is selected by the Bombers with pick 23 in the national draft after a sensational year that saw him named as a wingman in the state championships' All-Australian side after a string of strong efforts with the undefeated Vic Metro side.
He is given the number 11 guernsey, taking over from club stalwart Damien Peverill and following in the footsteps of past Bombers including John Birt and Damien Hardwick.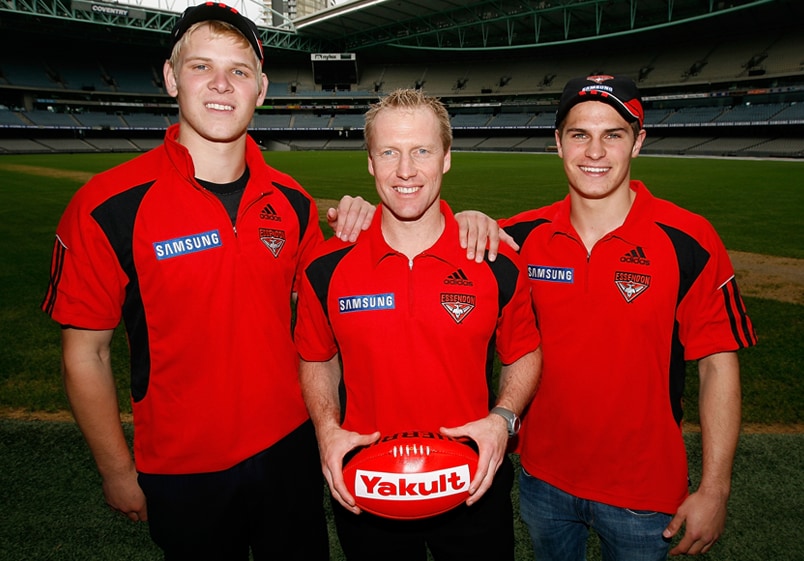 Zaharakis with fellow draftee Michael Hurley and coach Matthew Knights.*
Season one, 2009

Games – 10
Goals – 7
Average disposals – 13.7
The young Bomber has an immediate impact in the side, dazzling in his first game in round two against Fremantle with 21 disposals and seven inside 50s to claim a Rising Star nomination.
But the most memorable moment from the inaugural season – and perhaps in red and black history – came two weeks later, when Zaharakis famously booted the winning goal on Anzac Day to complete a stirring comeback victory in the dying stages of the annual blockbuster.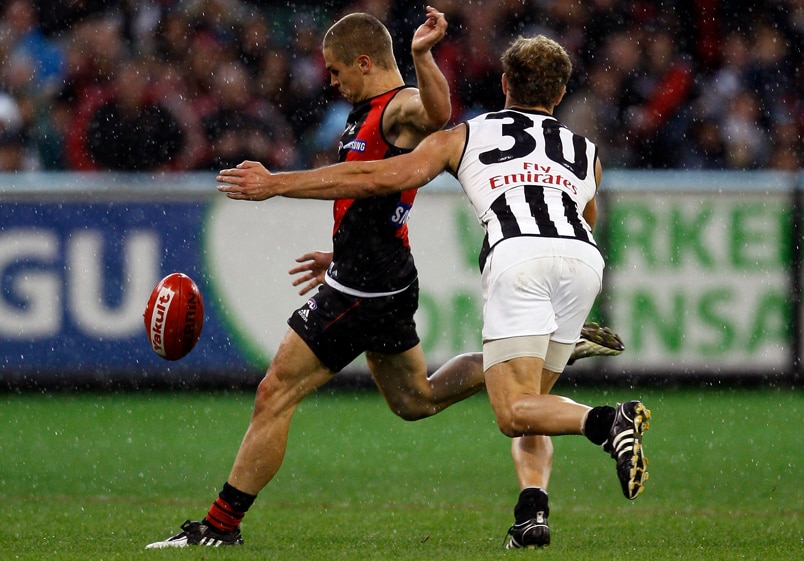 The moment every Essendon fan held their breath on Anzac Day, 2009.
Season two, 2010
Games – 20
Goals – 19
Average disposals – 16
Zaharakis was a model of consistency in his second season, booting at least a goal in the first 13 games and 19 from the first 16 games of the year.
The first clash of the season against Geelong was arguably his best game in 2010, when he claimed 19 disposals, 13 contested possessions and two goals.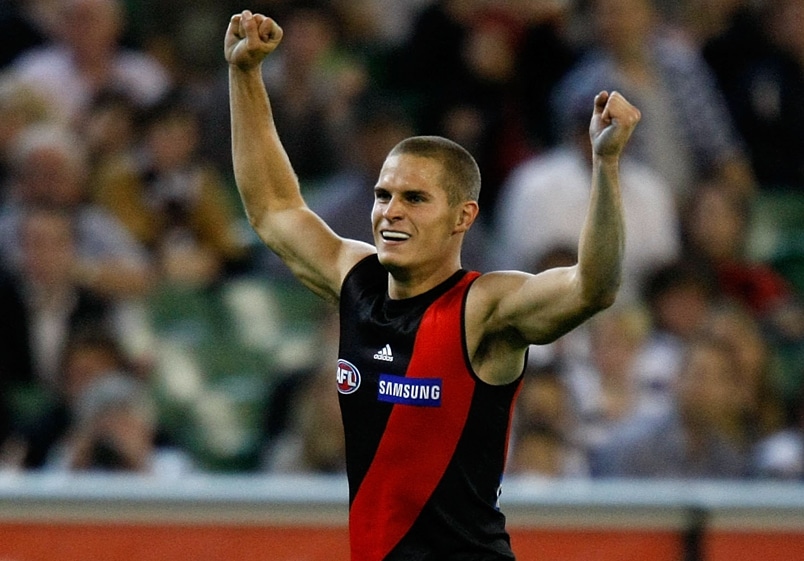 Zaharakis was on song at the start of his second season against the Cats.
Season three, 2011

Games – 23
Goals – 31
Average disposals – 20.5
Thriving on greater opportunities on the ball, Zaharakis put together a mightily impressive season.
He claimed his first Brownlow Medal votes with a maximum three votes against Brisbane in round eight with a sensational performance claiming 25 disposals, 14 contested possessions, eight inside 50s, six tackles and four goals.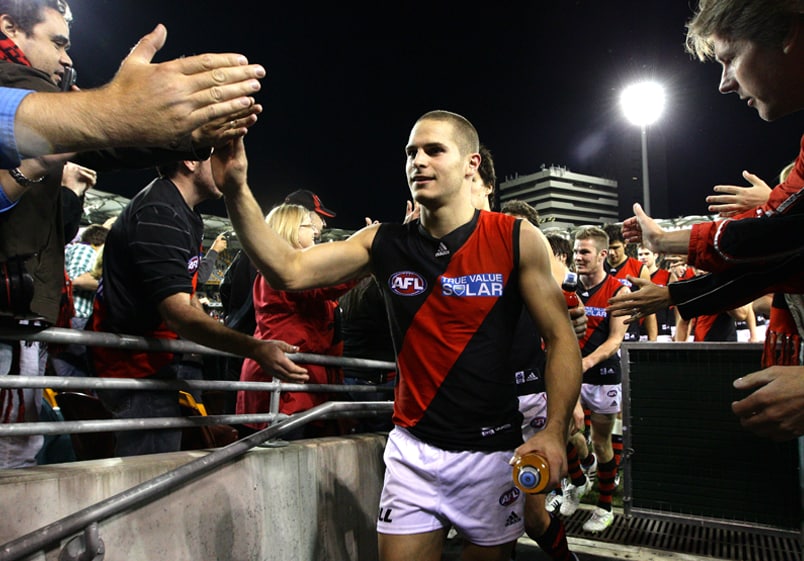 Exiting the Gabba after a massive performance against the Lions in 2011.
His 50th senior game yielded a victory over the Western Bulldogs and he impressed with 27 disposals, 16 contested possessions and two goals.
That was one of eight occasions in which he booted multiple goals, finishing up with 31 for the year from an average of 20.5 disposals.
In just his third season, Zaharakis was awarded the Crichton Medal as the club's best and fairest at just 21 years of age.
"David has had an outstanding year this season and has developed into a really important player for the team," coach James Hird said at the time.
"David was able to spend more time through the midfield this year and, to his credit, made the most of every opportunity.
"He has an incredible work ethic and an abundance of talent and to have a Crichton medal to his name after only three seasons at the club is a sign of things to come."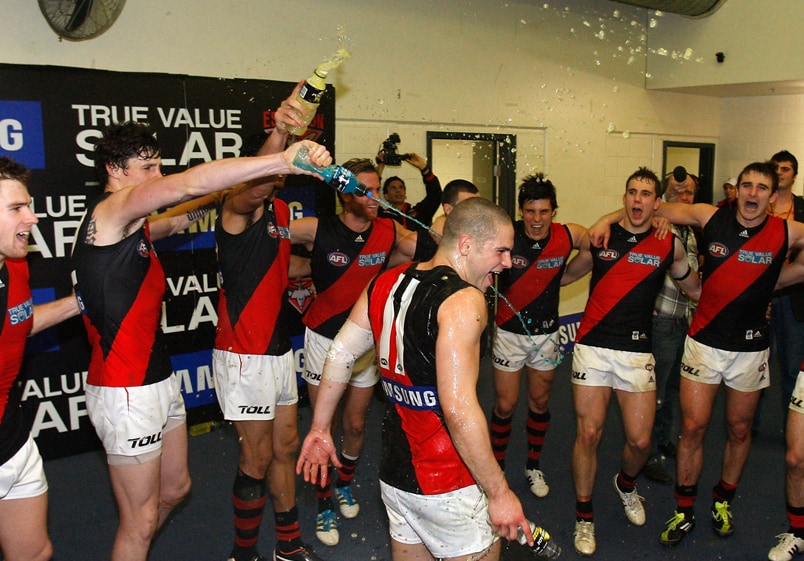 Zaharakis receives the customary Gatorade shower in the rooms after his 50th game.
Season four, 2012

Games – 13
Goals – 7
Average disposals – 13.7
Excitement levels were high for Zaharakis as he entered his fourth season and he kicked the year off well with 25 disposals, 14 contested possessions, 10 inside 50s and eight clearances against North Melbourne in round one.
He continued his theme of strong Anzac Day performances with 24 disposals and two goals against the Magpies and put together a string of strong games, but injury was to cruel his season.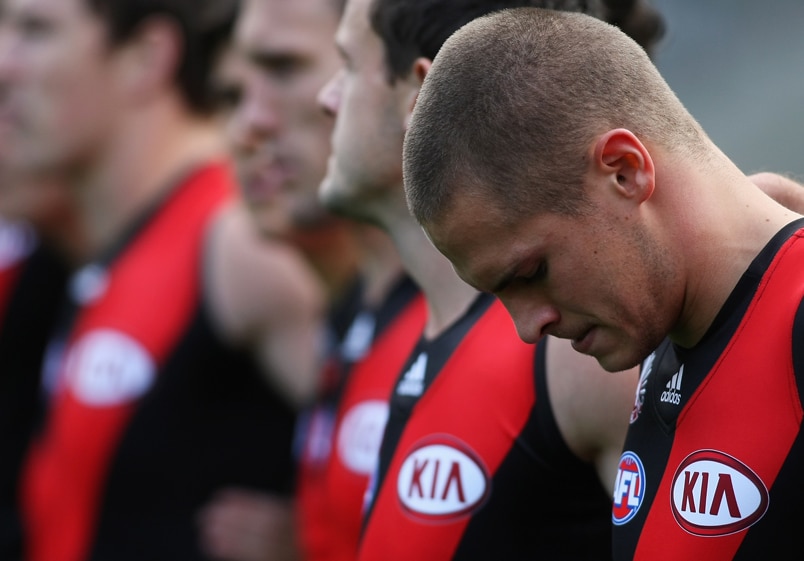 Zaharakis takes a moment to reflect ahead of the 2012 Anzac Day Game.
A significant quad tear kept him on the sidelines for 10 weeks until he returned in round 21 to play out the final three games of the year.
Season five, 2013

Games – 21
Goals – Nine
Average disposals – 22.7
Playing predominantly through the midfield, Zaharakis took his ball-winning to a new level in 2013, averaging nearly 23 disposals.
The clear highlight of his strong year once again fell on April 25, with the onballer racking up 34 disposals, 14 contested possessions and four goals to take home the Anzac Medal for best on ground.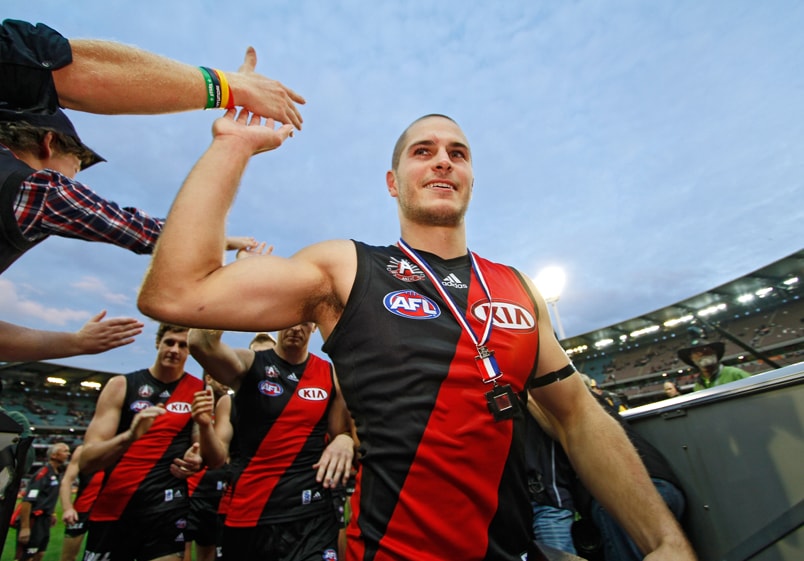 The Anzac Medal was awarded to Zaharakis for his superb effort against Collingwood in 2013.
Zaharakis was also named on the half-forward flank in the retrospective 2012 AFL Players' Association 22Under22 side.
Season six, 2014

Games – 23
Goals – 14
Average disposals – 24.4
Zaharakis was back to his best form in 2014, proving dangerous on the ball and in attack.
He claimed three Brownlow votes on two occasions, first against GWS in round 12 (34 disposals, 11 contested possessions, nine inside 50s and two goals) and then in round 16 against Port Adelaide (30 disposals, 12 contested possessions and seven tackles).
The Bombers claimed an exciting nine-point victory over Adelaide to celebrate Zaharakis' 100th senior game in style in round 14 before he went on to finish fifth in the Crichton Medal count.
Celebrations in the rooms following Zaharakis' 100th game.
Season seven, 2015

Games – 16
Goals – 9
Average disposals – 18.8
After booting six goals from the first five games of the season, an unfortunate ankle injury in round six against Fremantle derailed Zaharakis' year.
He returned in round 14 to play out the rest of the season, but the Bombers struggled to finish off the season.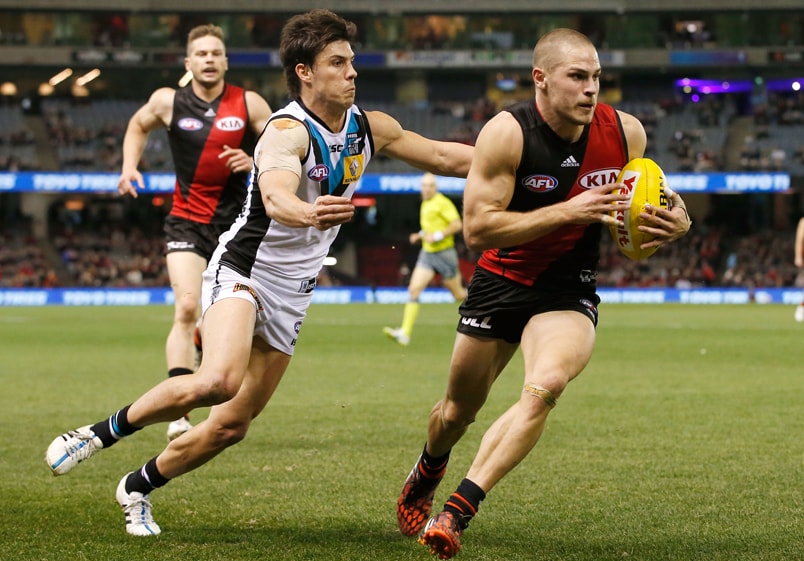 Preparing to launch the ball inside 50 with former teammate Angus Monfries on the chase.
Season eight, 2016

Games – 23
Goals – 5
Average disposals – 24.9
Zaharakis put together a brilliant season in 2016, raising his game on the ball and once again kicking off the year on the right foot.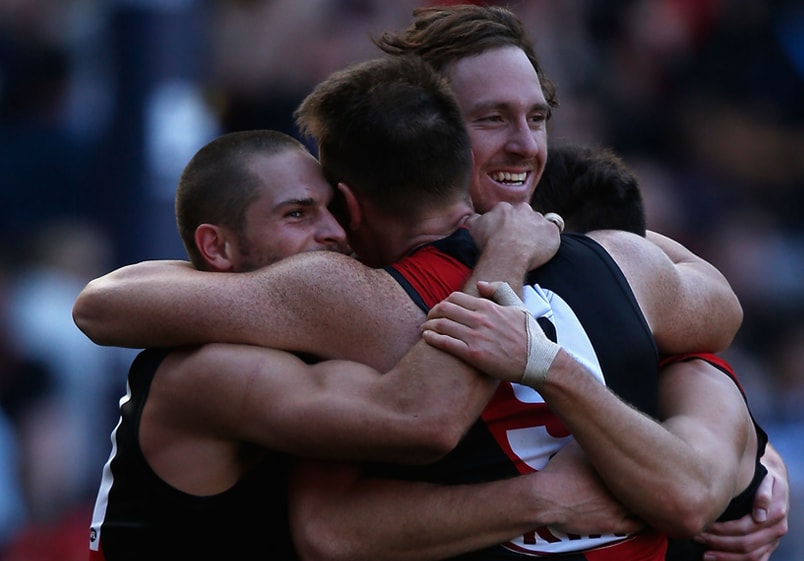 Zaharakis was thrilled after the Bombers' unexpected defeat of Melbourne in round two, 2016.
His start to the year included:
– 33 disposals and two goals against the Suns in round one.
– 34 disposals and 10 inside 50s against the Demons in round two.
– 34 disposals and a goal against the Cats in round four.
– 33 disposals and two goals against Sydney in round seven.
The star continued his impressive season with another big effort at Dreamtime at the 'G with 30 disposals, 12 contested possessions and 10 clearances against Richmond, before a sensational game against Gold Coast in round 21 with 40 disposals, 11 contested possessions and six inside 50s.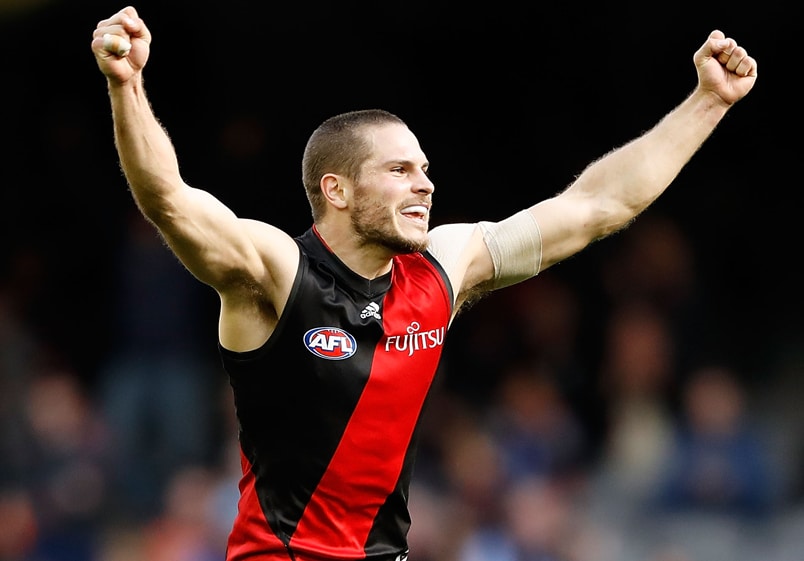 The experienced midfielder celebrates victory over the Suns in round 21.
Zaharakis was once again rewarded with a fifth-place finish in the Crichton Medal.
Season nine, 2017

Games – 23
Goals – 11
Average disposals – 25.7
Now one of the club's most experienced players, Zaharakis led the way as a prolific ball-winner in 2017.
There were some huge games throughout the year including 35 disposals and a goal against Richmond at Dreamtime at the 'G and 38 disposals, 15 contested possessions and a goal against Collingwood in round 16.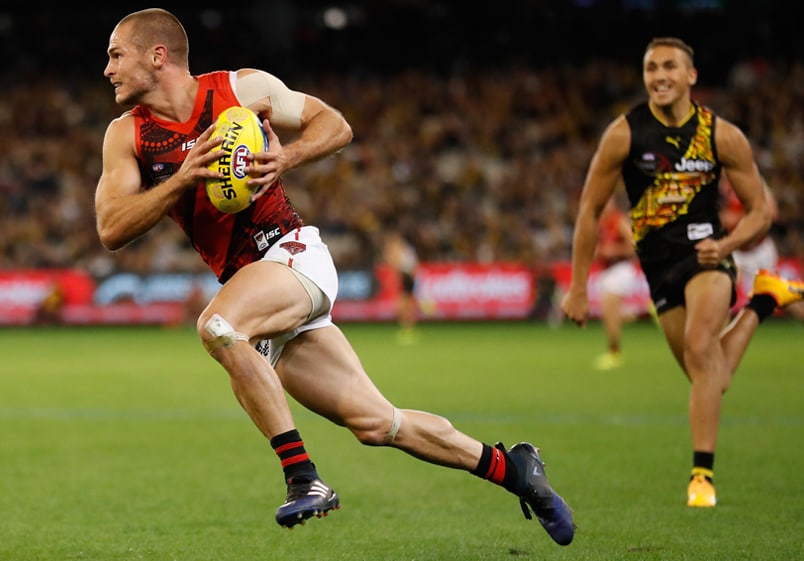 2017's Dreamtime at the 'G clash was a big one for Zaharakis.
He also fought strongly against Port Adelaide with 26 disposals, 11 tackles and nine running bounces, and he tore the Saints apart with 32 disposals and two goals, alongside a huge effort against the Suns (38 disposals, 15 inside 50s and three goal assists).
Zaharakis claimed a career-high 11 Brownlow votes for the season, all from round eight onward when he finished the year off in outstanding form.
Sadly, his 150th game didn't go to plan against the Blues in round three, but he was able to finish fifth again in the Crichton Medal.
Firing up the fans after kicking a goal against the Magpies in round 16, 2017.
Season 10, 2018

Games – 17
Goals – 7
Average disposals – 25.6
Zaharakis started 2018 like a house on fire, averaging 29 disposals in the first 10 rounds in a massive start to the season.
But it wasn't to be the year it promised for the gun onballer, who broke his collarbone in round 11 and wasn't back until round 18.
His best games fell side by side in rounds nine and 10 against Geelong and GWS respectively. He raked in 33 disposals, six tackles and three votes against the Cats, while he took home another three votes from 33 disposals, 11 contested possessions, six clearances and a goal against the Giants.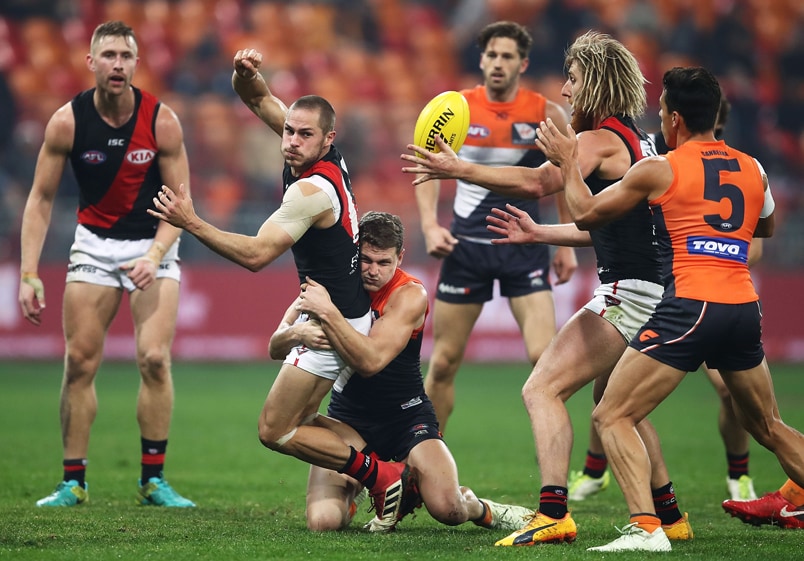 Zaharakis dishes the ball out from the contest against GWS in round 10 last year.
Season 11, 2019

Games – 12
Goals – 2
Average disposals – 23
Entering this year as the most experienced Bomber on the club's list, Zaharakis has played some impressive games in his 11th season.
Although spending most of his time through the middle, the veteran has also dabbled with some work across half-back in the last fortnight in a role he hasn't played often throughout his career.
His 31 disposals, 16 contested possessions and a goal against Melbourne in round three showed Zaharakis is still more than capable of reproducing his very best form.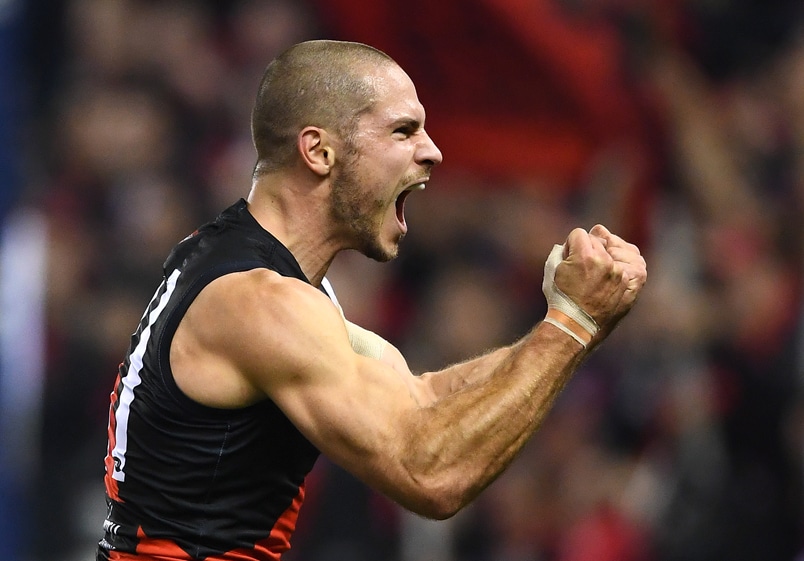 Zacka certainly still loves booting a goal for the Bombers. This one was against the Dockers in round nine.
The club is thrilled to celebrate the Bomber's 200th AFL game against the Giants this week and hopefully he can be rewarded with a red and black victory.
*All images are courtesy of AFL Photos. 
*Credit: Conor Walsh – Essendonfc.com.au